Future fusion power stations will be in competition with other energy sources. In this context, the blanket will play a key role as its thermal efficiency and power density will directly influence the station's total efficiency and hence its economy. In the European Fusion Programme two lines are pursued: The HCPB (helium cooled pebble bed) and the HCLL (helium cooled lithium lead) concept. KIT has been concentrating on the HCPB concept for many years, but also contributes to the HCLL concept in the areas of magneto-hydrodynamic effects and coating of tubes for the reduction of tritium permeation.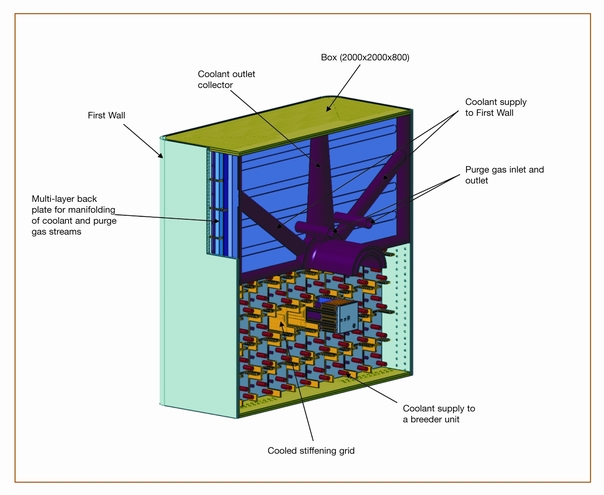 Isometric presentation of the HCPB-blanket
There are three functions the blanket has to fulfil: transformation of the neutron energy originating from the fusion reaction into usable heat, breeding of the fuel tritium by capture of neutrons in lithium and shielding of the superconducting magnets against neutron and gamma radiation. The blanket box is made of low activating ferritic-martensitic steel.
Module of the HCPB-blanket
The inside of the box is subdivided by horizontal plates containing cooling channels. In between, there are pebble beds alternately consisting of breeding material and of the neutron multiplier beryllium. The bred tritium is extracted from the blanket by purging with helium in a closed loop. For the sequential cooling of the box, the grid structure and the breeding units, a multi-layered backwall is utilised as manifold. The outlet temperature of the cooling medium helium is about 500 °C corresponding to a thermal efficieny of about 40%.